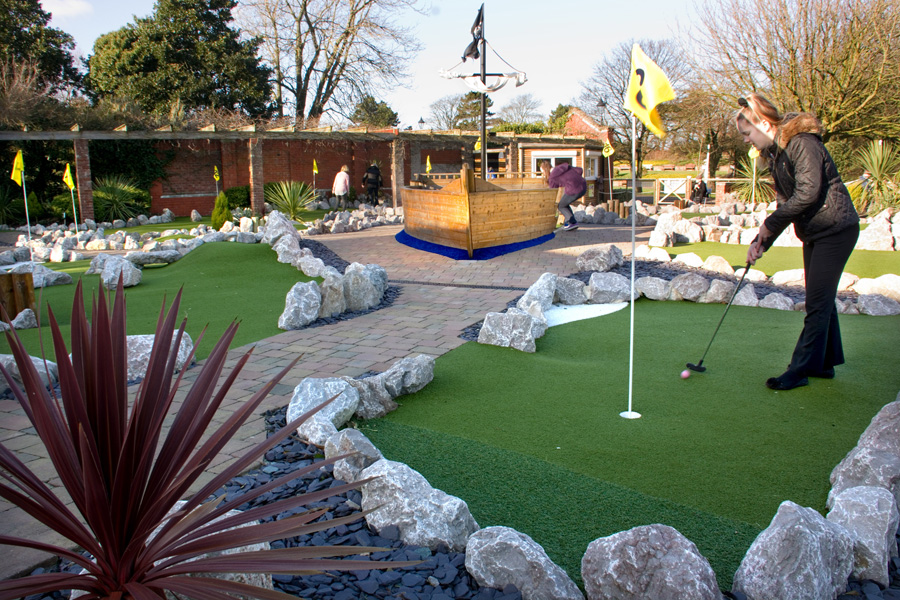 ---
There's nothing like a round of Adventure Golf to get the whole family together in the great outdoors! Our pirate-themed course is suitable for players from age 4 onwards, and our obstacles will entertain visitors of all skill levels.
Adventure Golf, also known as Mini Golf or Crazy Golf, doesn't require any fancy equipment or a full set of clubs. Using only a putter, players try to manoeuvre their golf ball around a series of unique obstacles, avoiding hazards and aiming to finish their round in the least number of putts. A variety of club sizes are available to suit both children and adults.
Our outdoor Adventure Golf course has been constructed using all-weather surfaces so you can play through any weather on realistic turf without ever getting your shoes muddy! A fun pirate theme, featuring a pirate ship and a rope bridge, adds to the fun of the game and our golf course and gift shop are open from 10:00 AM to 5:00 PM, 7 days a week, all year round.
The 16 hole course winds its way through a contoured all-weather terrain featuring faux bunkers and faux rough. An Adventure Golf round is both realistic and challenging and takes approximately 30 to 40 minutes from start to finish. Our admission prices offer great value and good fun: Children Under 14 years, £4.50; Adults, £5.50; Seniors, £5.00.
Golf parties, birthday celebrations, and corporate occasions can be arranged by contacting Happy Mount Park Catering Ltd, and we also offer pirate-themed children's parties at our soft-play facility next door to the Adventure Golf course.
Visitors to the park will find the Adventure Golf area and gift shop next to Café Rastelli, conveniently located close to the park entrance. If you're feeling hungry after a golfing session then stop in at the café for speciality coffee, hot and cold beverages, and some home-cooked meals, desserts, and light snacks.
Lewis's Ice Cream is sold at Café Rastelli or in vans throughout the park during the summer. There are a number of outdoor events and activities on at Happy Mount Park in the warmer months, so if you prefer your meal al fresco the café can package your take-away food orders for a picnic in the park!
There's plenty to enjoy for all the family in the park and you can easily enjoy a grand day out. Whether you're on holiday to Morecambe or you live locally, make Adventure Golf at Happy Mount Park a part of your family fun!
Happy Mount Park is located at the North end of Morecambe Promenade and is served by several local bus routes. There is a pay & display car park just outside the park gates, or for those who fancy a seaside stroll, it is a 1.5 mile walk along the Promenade from Morecambe town centre.