Events List 2022
A list of what's happening in the park over the coming months!
Join us for events in the park and entertain the family all year round!
All Events are Free to attend! 
SUPERHERO DAY
Saturday 16TH July– 12pm Start
Calling all you super heroes to join in the fun. Fancy dress competition, magic show, treasure hunt, art workshop, abracadabra and lots of prizes to be won.
PIRATE DAY
Saturday 20th August– 12pm Start
Ahoy there me hearties! Ye pirates command your presence in your best fancy dress, fantastic prizes for best dressed adult and child. Golden casket treasure hunt, pirate craft workshops and lots more!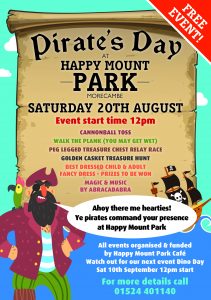 DINOSAUR DAY
Saturday 10th September – 12pm Start
Have a roarsome time! Bring your very own dinosaur to this day and search for fossils in the dino dig.  Then try and find the dinosaur image hiding in the park? Follow the footprints, find the dinosaur image and learn interesting facts. Decorate a dino egg at the craft workshop and take part in the children's dino derby at 2pm. All welcome to boom, shudder and shake at the dino disco ran by children's entertainer Abracadabra!
All Events Funding and Organised By Happy Mount Park Catering Ltd.
On inclement weather events will take place in the cafe. For Further Information please contact us on 01524 401140 or use the contact form here.