Events List 2019
A list of what's happening in the park over the coming months!
---
Join us for events in the park and entertain the family all year round!
All Events are Free to attend!
EASTER EXTRAVAGANZA
Saturday 20th April | 12pm
Meet the Easter Bunny at 12.15 prompt and join our Easter Egg Hunt trail! Lots of fun activities throughout the afternoon, including egg & spoon race, Easter bonnet competition, egg painting workshop, colouring competition and much more! Each child that finds an egg is rewarded with a free chocolate cream egg.
TEDDY BEAR'S PICNIC
Saturday 25th May | 11am
If you go down to the Park today you're in for a great event! Teddy bear assault course, best dressed teddy bear, coconut shy, hoop the teddy, tin can alley and children's entertainer, Abracadabra. Watch your teddy bear parachuting too, with fire engines and the police. In aid of Cystic Fibrosis.
THE NORMANS ARE COMING
Weekend of 22nd & 23rd June | 10.30am – 5pm
The park will echo to the sounds of swords and shields, but don't worry they're quite friendly.12th Century re-enactment society Historia Normannis will be bring the world of 900 years ago back to life. A mix of combat displays, humorous historical presentations and talks, knight training and lots of fun for all the family.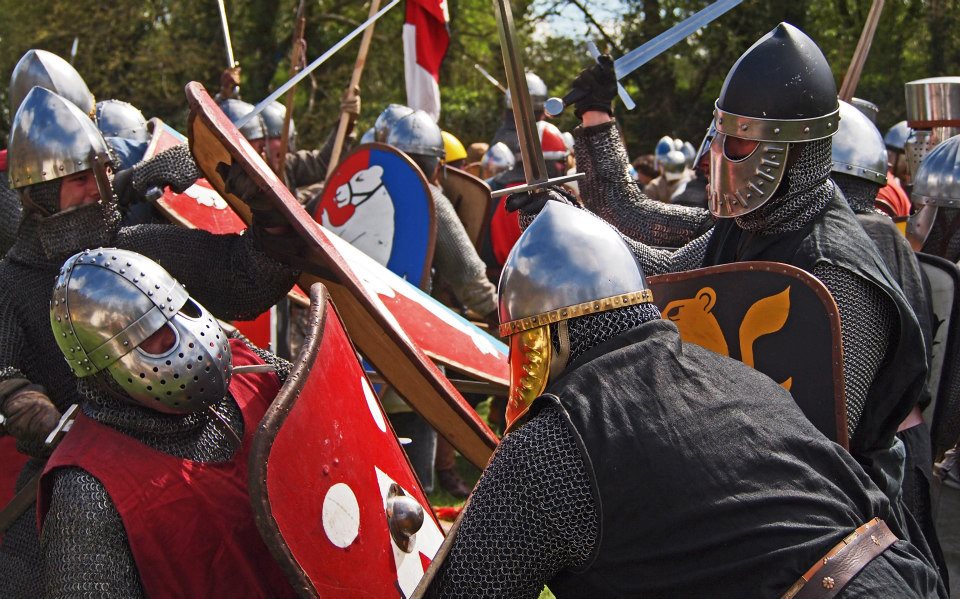 MAGIC DAY
Saturday 13th July | 12pm
Calling wizards, witches and all things magical! Learn how to fly with broomstick training. Prizes for best dressed magical characters plus craft workshops. Be transported into a magical world of make believe with a children's magician, and meet birds of prey and watch their display.
PIRATE DAY
Saturday 17th July – 12pm Start
Ahoy there me hearties! Ye pirates command your presence in your best fancy dress. 10 pieces of gold (£10) for best dressed adult and a fantastic prize for best dressed child. Golden casket treasure hunt, pirate craft workshops and lots more! Birds of prey display.
DINOSAUR DAY
Saturday 7th September – 12pm Start
Have a roarsome time! Can you find the dinosaur image hiding in the park? Follow the footprints, find the dinosaur and learn interesting facts. Search for fossils in the dino dig and receive a dinosaur egg to decorate at the craft workshop if you succeed. Children's dino derby at 2pm plus birds of prey. All welcome to boom, shudder and shake at the dino disco!
All Events Funding and Organised By Happy Mount Park Catering Ltd.
On inclement weather events will take place in the cafe. For Further Information please contact us on 01524 401140 or use the contact form here.
SUNDAY BRASS
Music to your Ears!
Concerts supported by Happy Mount Park Catering Ltd. (Café in the Park)
Pentecost Sunday performance supported by Churches Together.
Details correct at time of print but programme may be subject to change.
Seating not provided but deck chairs are available for hire.
In bad weather, the performance may go ahead in the Café.
MAY
5 Preston Concert Band
12 Thornton Cleveleys Band
19 Morecambe Band
26 Burneside Brass
JUNE
2 Lancaster City Brass
9 Morecambe Band
(Pentecost Sunday)
16 East Lancashire Concert Band
23 Morecambe Brass
30 Kendal Concert Band
JULY
7 Lostock Hall Memorial Band
14 Freckleton Band
21 Morecambe Brass
28 Burneside Brass
AUGUST
4 Thornton Cleveleys Band
11 Blackpool Brass
18 Morecambe Band
25 Kendal